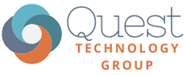 Business and Technology in Plain English
Join Our Learning Community
How to implement cybersecurity protection for your business.
Our companies -- regardless of size, industry, clients -- have one important thing in common today. Our day-to-day technology needs are very different than they were just a couple of years ago.

While we were going about the business of growing our companies, the IT services we relied on became inadequate. We didn't realize this had happened.

But how do we know what we need and where do we start?


18 Questions to Start the Cybersecurity Conversation with IT