What is Advanced Endpoint Security?
Unlike
legacy antivirus software
that is mostly reactive, today's sophisticated security tools are
proactive
. This software continually listens, monitors, scans, and prevents threats before they happen.
How Does Advanced Endpoint Security Work?
Devices on the company's network are referred to as
endpoints
. These include desktops, laptops, servers, and mobile devices. Software is installed on each endpoint as well as on centrally-managed servers.
This software uses machine learning and AI to teach itself what potential threats might be. This means that advanced security software can detect and block attacks even as they are happening.
Malware
and viruses don't reach the device. With legacy antivirus, viruses are detected and removed
after
they infect the device. Which would you prefer?
Advanced security software includes tools that
block
users from accessing potentially dangerous sites as well as from downloading or installing
unauthorized
apps and software.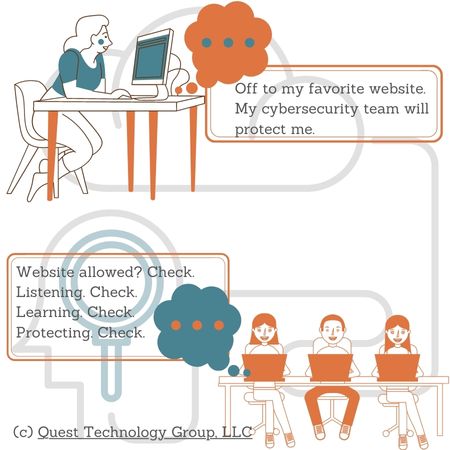 Some key advantages to advanced endpoint security over legacy antivirus include ---
Users cannot control the security software installed on their desktop, laptop, or mobile devices.
It provides 24/7/365 centralized control over essential protection settings on all devices.
This software continuously scans for both known and potential malware and security risks.
New malware updates are immediately available.
The software scans the entire device including files, processes, in-memory executables (programs), services, downloads, USB devices, email, and attachments.
This software is continuously learning and protecting based on behaviors.
It predicts and blocks potential threats based on variants of known malware.
In the event an attack occurs, the software provides both partial and full rollbacks to a healthy state.
Keep Discovering
What's the Difference Between Antivirus and Advanced Endpoint Security?
How Website Blocking Protects Your Company
Why a Company Shadow IT Policy is Important
Your Essential Advanced Security Bundle for Today's Protection
DNS web content filtering
Proactive 24/7/365 SOC breach monitoring and support
Advanced endpoint security, the next generation anti-virus