What is IT Asset Management (ITAM)?
IT asset management
, also called
ITAM
, is the process of identifying, recording, monitoring, and maintaining all of an organization's valuable technology assets.
What exactly are IT assets? These include hardware (such as desktops, laptops, servers, mobile devices, printers, switches, and routers), software, data, and users. All of these together make up the IT asset inventory that is essential to day-to-day operations as well as long-term strategic decision-making.
Why is IT Asset Management Important?
There was a time not so long ago that acquiring and managing hardware and software was a lot easier. Most people worked in a physical location that the organization closely managed. Hardware was purchased when it was needed from approved vendors. Software came in a box or was distributed by a carefully selected provider. Updates were known in advance and scheduled.
With the rise in work from anywhere, bring your own device (BYOD), and software as a service (SaaS), the IT management landscape changed significantly. In addition, the need for broader and more specialized IT skills has found many organizations unprepared to adequately plan and support their rapidly changing IT needs.
One of the risks that organizations of all sizes face is not knowing what hardware and software is being used by their own users. The ease of acquiring a quick tool or piece of hardware to meet an employee's immediate need means that employees have become their own IT decision-makers. This is known as
shadow IT
, and it contributes to runaway software sprawl in an organization.
How Does IT Asset Management Work?
The first step in managing all of those valuable assets is to gather all of the information about them into a single source. This is the start of the IT asset inventory. The responsibility for an IT asset inventory often falls to the internal IT team. When they are asked to produce a list of each asset used throughout the organzation, the first step is to launch an Excel spreadsheet. This approach is tedious, error-prone, a poor use of IT's time, and almost guaranteed to be incomplete.
The better way to approach the
IT asset inventory
is with a software discovery tool that automatically does the work. The right discovery tool will identify every device and user connected to the network as you define it. The obvious benefit to this approach is you are no longer relying on manual data-gathering. Automation will uncover what a human might not see or know to look for.
As each asset is discovered, it is automatically added to the organization's
asset inventory database
. This valuable data becomes the single source for everyone in the organization to access and use for all day-to-day technology and strategic decision-making. A robust
technology roadmap
supports the balance between continuous company initiatives and technology decision-making.
The right discovery software will continually run on the network, uncovering new assets, reporting on actionable insights, and doing the tedious work that no human can do as effectively.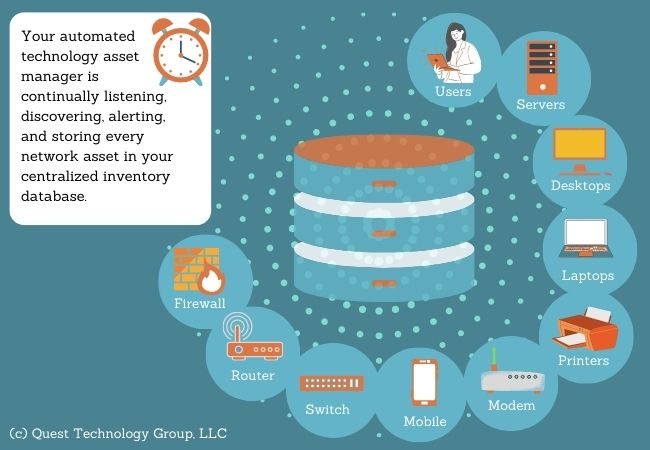 How is IT Asset Inventory Data Used?
The purpose of all this data-gathering is to support the entire organization's immediate and long-term needs. When properly integrated into other applications, workflows, processes, and planning, the data becomes invaluable. It --
inspires what-if thinking (discover unexpected opportunities)
supports everyday problem-solving (helpdesk and service desk responsiveness)
supports financial planning (proactive asset end-of-life replacement)
enables pay only for what you use (continuous license compliance)
contributes to greater employee efficiency (always-growing knowledge base)
reduces cybersecurity risks (combined with the other advanced proactive monitoring tools and services to identify unexpected network connections)
becomes the foundation for the organization's long-term technology roadmap
Keep Discovering
What is Shadow IT
What is IT Asset Management and Why It Matters eBook
What is Technology Roadmap